Keeping cool in excessively sunny weather!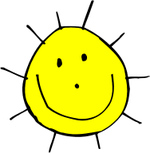 Young children cannot adjust to changes in temperature like adults do.
Children sweat less in warm weather and this affects their body's ability to cool down. Here are some tips to help them cool down in Ghana's warm weather. . .
Drink more fluid than usual:
Children do not sweat as much as adults, but they lose body fluid quicker than adults. They need at least 4 glasses of water a day or 50% more than they usually drink in warmer weather, even when indoors.
Keep good air circulation:
When in a car or in a closed room try and keep the environment ventilated.  Children who overheat show it with flushed cheeks and rapid breathing early on. Their body temperature rises rapidly and often very high in such conditions. Avoid putting children directly onto plush or vinyl surfaces (Car seats and mattresses often are covered in this) and provide several layers of cotton sheeting which is firmly anchored down to keep them cool. It is best to keep head and feet uncovered when indoors and sleeping.
Children's skin reacts strongly to warm atmospheres:
Often the children react to hot and humid weather with a web of red rashes, these tiny bumps cover mainly the areas that are most prone to sweat, relieve the discomfort with loose fitting cotton clothing and aqueous creams such as Sudocrem
Prepare well if going outdoors:
Avoid playing outdoors from 11:00a.m to 5:00p.m when the sun's impact is most felt. Do use sunscreen liberally and insist on a hat, and despite all these measures attempt to be in a shady area. Children should be wearing loose clothing and very well fitting shoes as walking barefoot may result in stepping onto hot pavement and grounds. Large play equipment such as swings and slides, especially plastic ones will conserve heat for at least an hour after the weather cools down.
Kamilla Kirpalani
Founder and Academic Director
Little Explorers Montessori Plus School