Making a continent globe!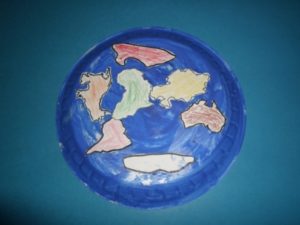 What You Need:
A paper plate,
Some Paint,
A cut out continent,
A glue stick,
A brush and  an apron.
Guidelines:
Invite the child to join you and discuss the names of the continents.
Say "Today we are going to make a continent globe using a paper plate."
Begin by making a sample.
Take the paper plate and turn it over and use the brush to spread blue paint with glue on it.
Take the cut out continent one by one and rename the continent with the help  of the child and then stick the cut out continent on the paper plate.
Then place it to dry.
Now invite  the child to have a turn too.